"As Gunaikurnai, we see our land (Wurruk), waters (Yarnda), air (Watpootjan) and every living thing as one. All things come from Wurruk, Yarnda and Watpootjan and they are the spiritual life-giving resources, providing us with resources and forming the basis of our cultural practices. We have a cultural responsibility to ensure that all of it is looked after."

"Our vision is Gunaikurnai stand proud and strong, where our people have strong connections to their culture and Country, where our businesses and relationships are based on solid foundations and where we are self-sufficient and highly respected. In our future, our mob is united – the five clans of Gunaikurnai working together to support each other."

Gunaikurnai Whole of Country Plan
Gunaikurnai Land and Waters Aboriginal Corporation (GLaWAC), is recognised as:
A Traditional Owner Body Corporate under Federal Native Title Act
The Registered Aboriginal Party (RAP) within their area of determination
Holder of a Recognition and Settlement Agreement, executed under the Traditional Owner Settlement.
The map below shows the area of determination for GLaWAC as the Registered Aboriginal Party in East Gippsland. This area covers just over 50% of the EGCMA region.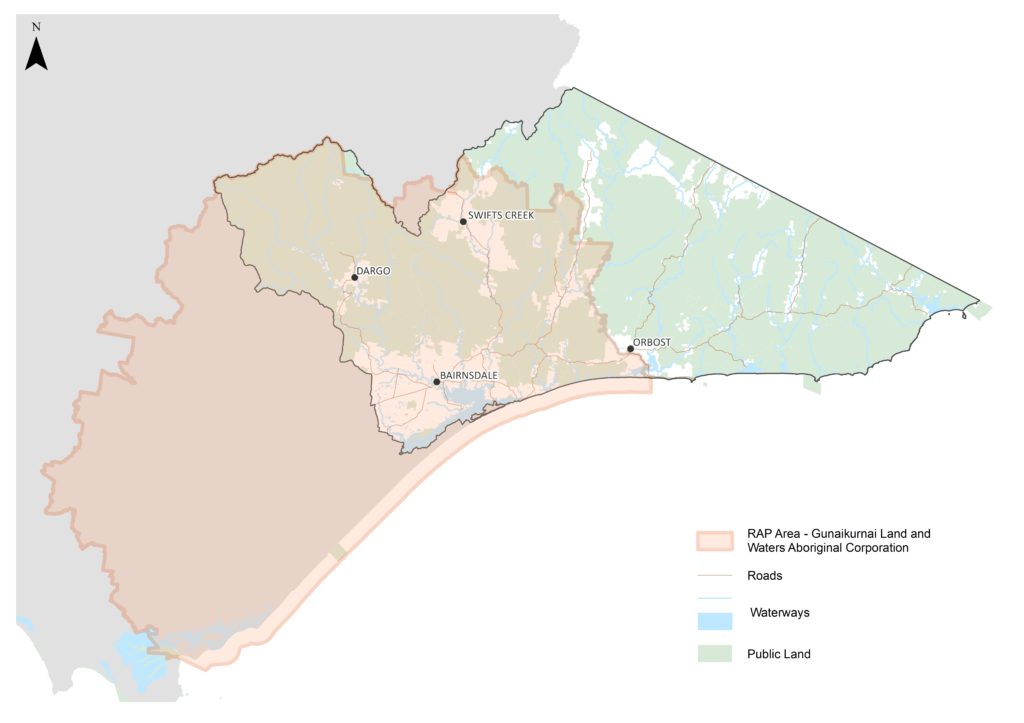 The role of GLaWAC is to further the aspirations of the Gunaikurnai Traditional Owners through the implementation of the Gunaikurnai Native Title settlement agreements and furthering the objectives of the Gunaikurnai Whole of Country Plan, including caring for Country.
Caring for Country includes being able to practice the cultural obligations to heal and look after Country in a way that acknowledges all of Gunaikurnai Country is linked with no separation between landscapes, waterways, coasts and marine environments, and natural and cultural resources.
Managing a connected landscape means everything matters and that values exist even when they cannot be seen, for instance they are under water, covered by vegetation or within landscapes changed by colonisation. Managing Country in a sustainable way like the Gunaikurnai have done for tens of thousands of years means ensuring everything taken can be replenished, resources are taken for the benefit of the mob rather than individual gain and leaving enough for others.
To implement this, GLaWAC is looking to the East Gippsland Regional Catchment Strategy as a shared pathway to implement Gunaikurnai traditional knowledge and together ensure Gunaikurnai objectives are acknowledged, supported and resourced
GLaWAC together with other Registered Aboriginal Parties across Victoria, worked hard to develop the Victorian Traditional Owner Cultural Landscapes Strategy. The key principles of the Cultural Landscape Strategy enable Traditional Owners to self determine their respective objectives for Country, using the Traditional Owner Cultural Landscape Strategy Framework for Managing Country as a toolkit.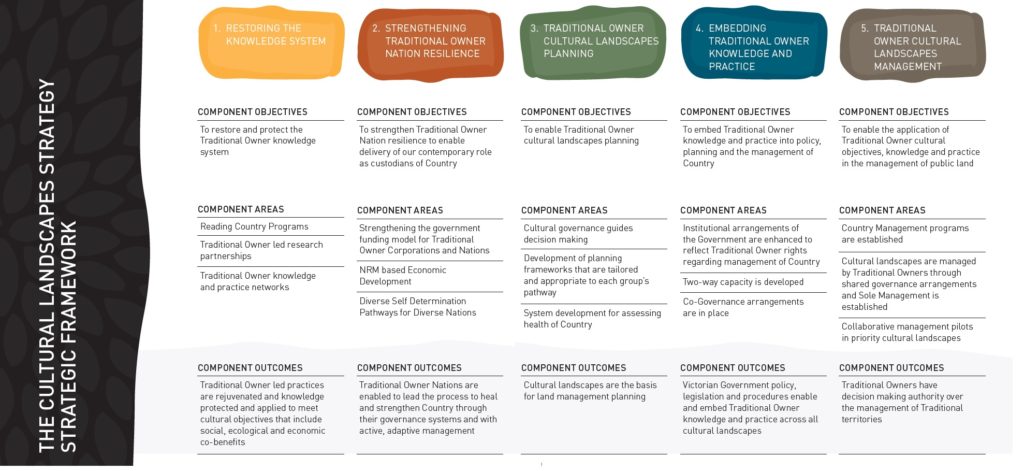 The Framework is a "toolkit" that GLaWAC will adapt their own self-determined pathway for healing and caring for Country, with five key program components:
Restore the Traditional Owner knowledge system
Strengthen Traditional Owner resilience
Enable Traditional Owner cultural landscape planning
Embed Traditional Owner knowledge and practice into policy, planning and management of Country
Enable Traditional Owners to apply cultural objectives, knowledge and practice in the management of public land
The Gippsland Environment Agencies and GLaWAC work closely together using a collaborative Partnerships Agreement to align priorities, objectives and actions to achieve common goals. The priorities in the RCS are reflected in the Partnerships Agreement and the CMA looks to where the objectives of the Gunaikurnai can be furthered, including implementation of the Country Plan, and the Cultural Landscapes Strategy, where prioritised by GLaWAC.
For more information, visit the Gunaikurnai Land and Waters Aboriginal Corporation website.
---